Emily Meyerson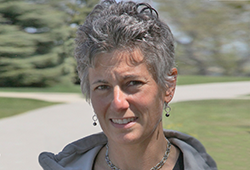 Emily has expressed her love and enjoyment of this area's natural resources and recreational amenities in a meaningful, lasting way. Saying she wanted to make sure opportunities to enjoy the great outdoors continue for those who follow, this professional land-use planner has indicated a future gift to the Community Foundation in her will.
Through her work, Emily had come to know the Community Foundation well-in fact, she has applied for grants through the trails council. "As a planner, I believe strongly in building community," she explains, "and the Community Foundation is one of the best, most efficient organizations dedicated to that end." The process was an easy one, according to Emily. The Community Foundation supplied the suggested language for her will, and her attorney drew up the document.
"We all want recreational amenities-swimming pools, parks, trails," she concludes, "and it takes time and money to make that happen. I feel good about doing this."